Time for a new hat! I found a lovely crochet pattern to make a sweet winter crochet hat.
This crochet hat is very easy to make. It has a funny puckered top.
I added some extra length to the rim so you can fold it back or wear the hat a bit slouchy.
I made a hat size toddler / preschooler
Pattern:
1) Magic Ring, 9 HDC in ring, join, CH1 (9HDC)
2) 2 HDC in each stitch, join, CH1 (18HDC)
3) 2 HDC in each stitch, join, CH1 (36 HDC)
4) (2HDC in 1st stitch, HDC in next) Repeat to end, join, CH1 (54 HDC)
Only in round 5, work last stitch in the join stitch (slip stitch) of the previous round.
5) HDC in each stitch, join, CH1 (54 HDC)
6) 4 HDC, (2 HDC in next, 8 HDC) repeat between brackets till 4 HDC remain, HDC to end, join, CH1 (60 HDC)
7 / 17) (SC, 2 DC) in 1st stitch * skip 2 stitches, (SC, 2 DC) in next * repeat to end, skip last 2 stitches, join, CH1 (60 stitches)
18) SC around, join, CH1 (60 ST)
(From here I altered the original pattern!!)
19 / 21) SC around using Back Loops only, join, CH1 (60 ST)
22) Work your last round in
Reversed Stitches
. Instead of from right to left you work from left to right. Backwards over your last row.
The yarn I used is made especially to make nice, warm hats.
They come with a nice pom-pom included.
Love it? You can find more hat yarns in my Yarn Store "Haaksels - Ice Yarn".
Click on the picture of the yarn to find out more about the hat yarns.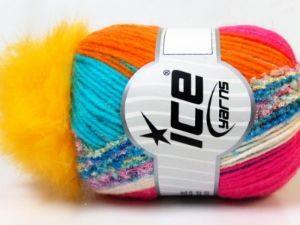 Link to Haaksels - Ice Yarns, click on picture
Many thanks to Andrea Womack, she is the desginer of the pattern of this lovely hat.
The pattern comes in sizes for: 0-3 mnth / 3-6 mnth / 6-12 mnth / toddler, preschooler / child / adult
HERE
you can find the link to her pattern.